People are asking so at last here it is just in time for some good cheer as we plunge into darkness. While I wanted to include this and my Biscotti cookies in my new cook book
Autumnal Feasting, Mostly Vegan
but alas the bittersweet chocolate and fresh butter and eggs had to stand by as the raw chocolates and other sweet endings came forward.
The cake is not frosted because it is a super rich all about the large bittersweet Guittard chocolate chunk at the center of the recipe.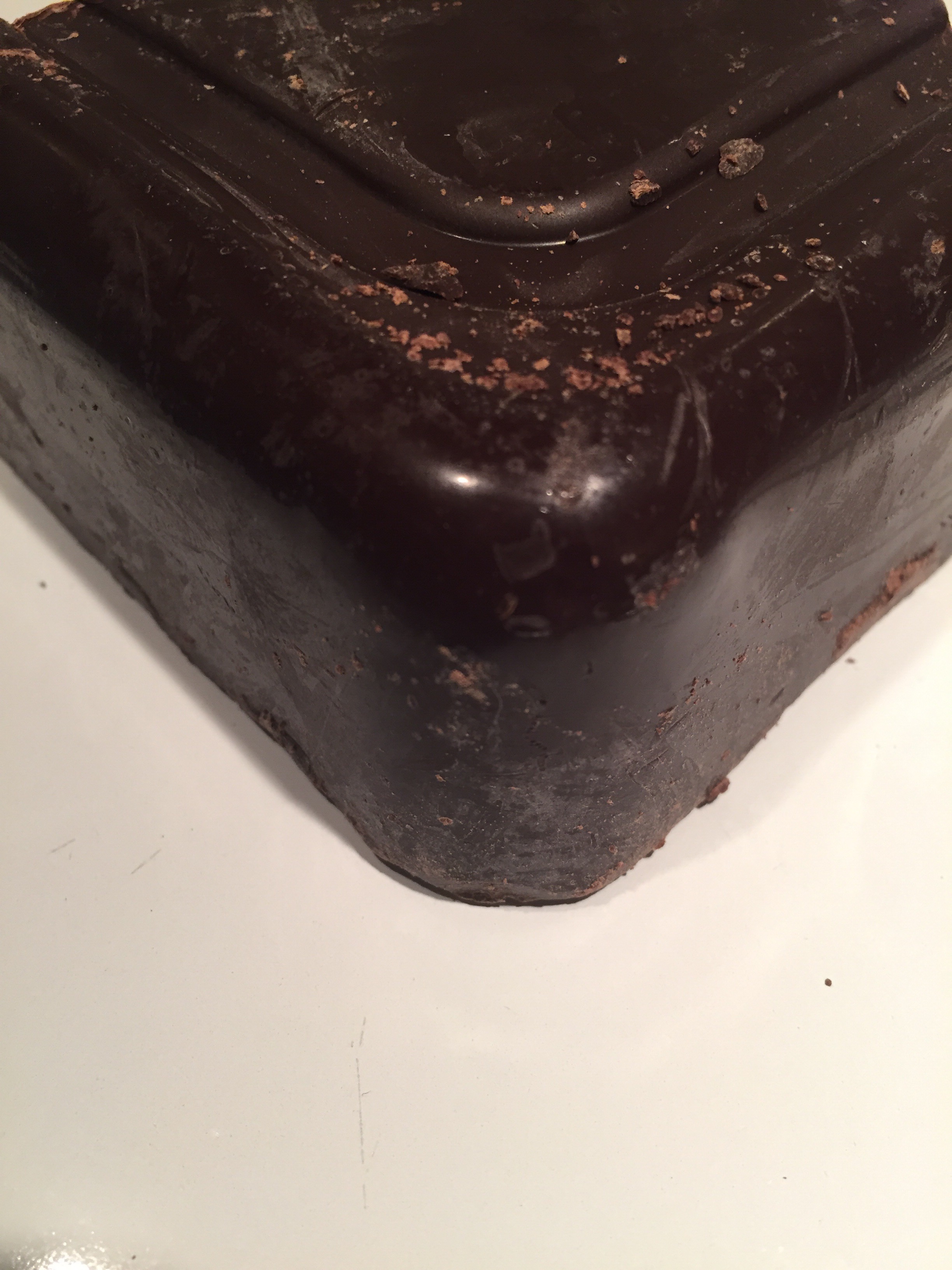 The best chocolate available makes for a wonderful base for this nearly free of flour cake. Find quality Guittard locally at the Milk Pail market in bulk or in your neighborhood find another high end 70% bittersweet offering, please not a bakers chocolate it will not be the cake I am trying to share with you.
This photo below was taken in France. I brought the chocolate from Mountain View. See the stenci cut from the parchment paper sitting on the cake and waiting for a young relative to come and shake the sugar into a pre cut design. After that it was all too exciting time for dinner and then eating the cake so we never got another picture of the sugar in place maybe you will be sending me a photo of your sugar design.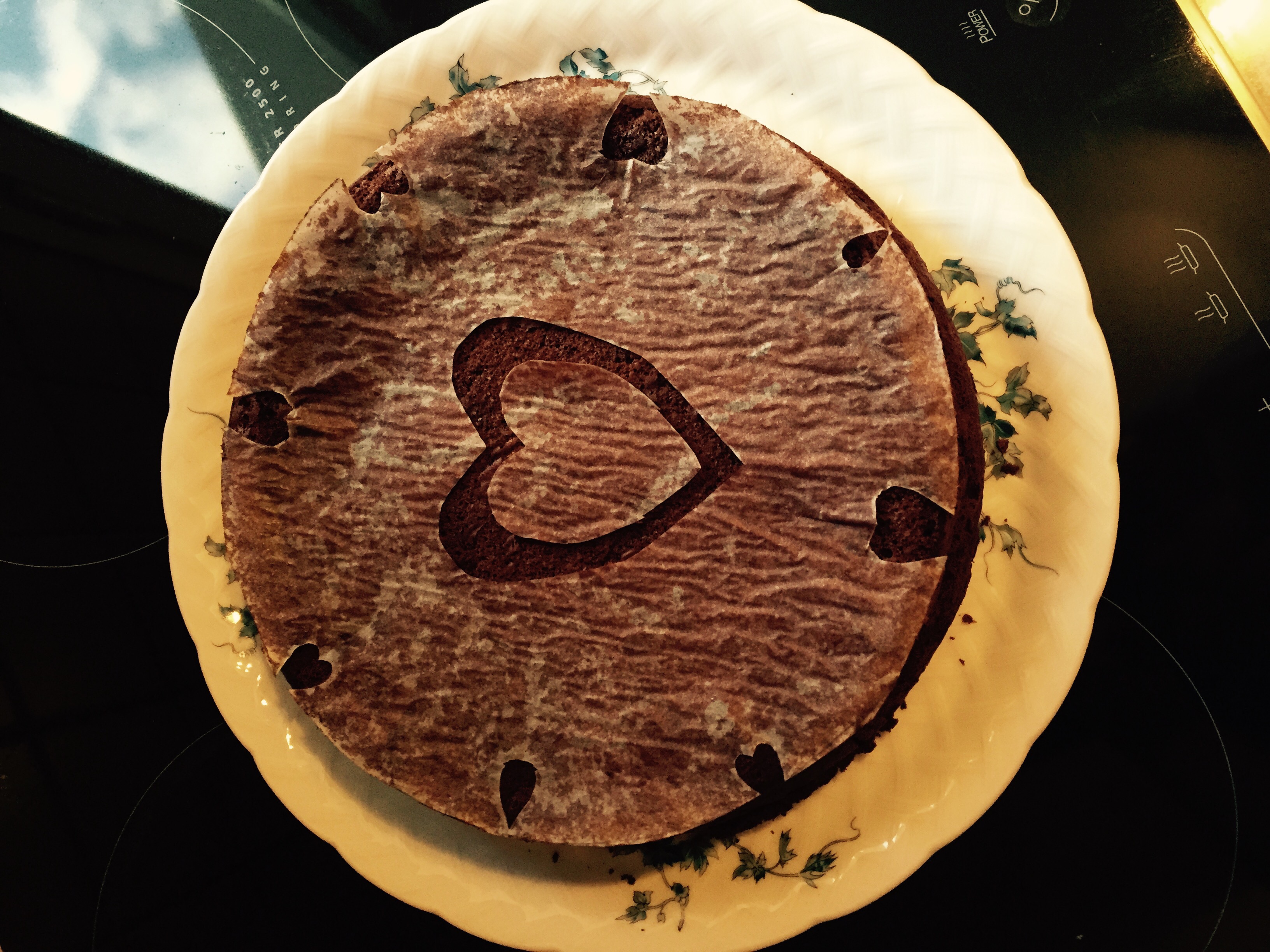 7 oz Guittard chocolate (bittersweet)
14 tablespoons unsalted butter (8 per stick)
1 cup sugar (split into 1/3 and 2/3 cups)
5 fresh eggs, room temperature
3 tablespoons cake flour
1/4 teaspoon salt
Preheat oven to 350 degrees
Prepair a 9″ spring form pan, with coat of spray oil. Or if in a regular cake pan cut a circle of parchment paper the size of the bottom and spray it and the sides of the pan to aid in quick release later.
In a doubble boiler (or makeyour own stacking a large metal bowl over a saucepan) bring 4 cups of water to a boil. Rough chop chocolate and set above the boiling water bath, turn it down to medium high, to melt but not over heat.
In a medium sized clean bowl separate out the egg whites and save aside the yokes in a cup. With a hand mixer set on high whip up the egg whites 2-3 minutes. As they get foamy but before peeks from, have a 1/3 cup of sugar at hand, add half of it and beat the egg. Then as it becomes opaque add the remaining portion of the 1/3 cup measure of sugar. Set that aside.
Turn off the burner and if not a steady arrangement remove chocolate from the hot water bath if that feels safer. Next use the hand mixer on the lowest setting to carefully smooth the chocolate. Add in 2/3 cup sugar, egg yokes, flour and salt.
Carefully fold in the egg whites in stages. First stir on low with mixer in only third of them getting it going then add in another third being carful to keep the loft on slowest setting. Stop, scrape of sides of the bowl. Lightly add the last bit by hand folding in the last of egg whites stop folding as the color becomes a unified silky brown.
Use a rubber spatula to scrape out the batter into the bowl into the prepaired pan.
Bake at 350 degrees for about 35 min. It is done when a toothpick, inserted comes out clean. (Your oven may take less or more time, your nose will also tell you it is done)
Cool and if using a springfromnpan remove the ring. If not carefully turn onto a plate.
I sometimes use a sencil on top to decorate with powdered sugar. Especially if parchment paper was used as it makes a receptive, uniform surface to design. Cut out a few hearts (see image above) or even use an object like a fallen leaf (wash in advance) and see what you can do.
Very nice with whipped cream and cherries and no top. Store in a sealed container for future freshness.